In this holiday special, we sit down with Carlos Alazraqui who is best known as Officer Garcia on Reno 911, which has a special coming out on December 23rd. Listen to this light-hearted episode filled with stories about Carlos' experiences in his career and Tough Mudder, along with many voice imitations.
Connect with Carlos on Social:
-Website: carlosalazraqui.com
-Instagram: @carlosalazraqui
-Youtube: Carlos Alazraqui
LISTEN NOW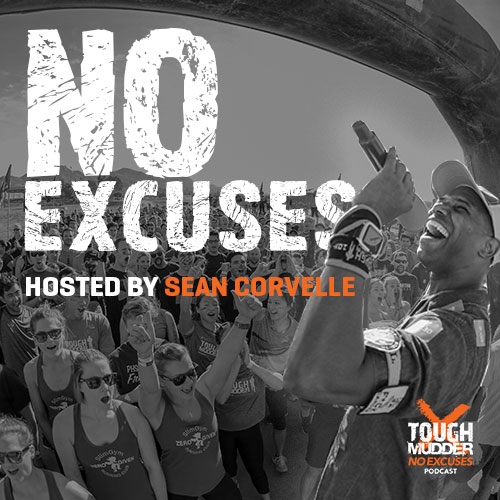 A LOOK INSIDE THE EPISODE:
TM: Tell us about your experience emceeing Tough Mudder in Washington.
C: It's rainy, it's moist, I'm using the porta potties. I'm so nervous, I see all the flights. I know it's gonna be a long day. I put my own music on and I started with crazy doo doo dee doo dee doo doo doo…"You guys are all crazy for being here!" Then, I ended with the bagpipes… "I want you to take a look at those obstacles and say that you can take our legs, but you can never take our freedom!" After one flight, I'm like, I picked the wrong thing. Then, after the fourth flight they're like, "Hey, Bear Grylls is here and he wants to introduce himself," and I'm like, "Where is he?" They walked me over to this idling Ford suburban and I'm cold and I opened it and he was like, "Hey, how are you going man?" Click, in his warm idling car. But then he came out to address the flight and then he was on his way to promote some Clif Bars or something like that.
I remember Rebecca, having a more difficult time at the start of the race. She was better at making fun of people at the end of the race. We both did it. I loved it. I loved the look on people's faces. They would come back afterwards and say, "Dude, thank you so much for sending us off. We miss Sean, but you did a great job." That was the highest compliment saying that. I was like, okay, good, I held it together. That was such a wonderful compliment, but I loved it. I loved it. I love that feeling. You're the host. You want to set the tone for this race and I played the Sugar Hill Gang because I got all serious. I was like, alright. I want you guys to stand in a circle, we are going to do some warm ups. Clang clang, clang, clang, clang… We did that, we had fun. I applauded them for taking a risk and being a part of this group and just go out, do your best, help people. Don't worry if you're concerned about time, go for it. If you're not having an awesome time, you guys are awesome. Go. Basically what you do, a version of what you do. Again, the best compliment I got was, we miss Sean, but you really did a good job in their place, so that was fun.
TM: What was your experience actually running the Tough Mudder?
C: I loved it. I kind of pulled my shoulder. It was pull up, pull up, pull up sideways bar, front bar, and on the sideways bar kind of yanked my arm a little bit. So a little bit of an injury, but I pulled through. I was able to get over the wall and do all the rest of the obstacles because that was one of the first obstacles. I was surprised to see how athletic my neighbor, Scott Elcan was and Samantha. Doing the fireman's carry with her, I was like oh, I gotta carry her she can't carry me so I'm going to carry her twice. It brought the best out of all of us. My wife, holy crap, Laura is going for it, man. She's a former basketball player. I punched her when you had to slide before the old Arctic Enema, you'd go underneath. This one is when we slid in, you had to go over. So we slide in and as we're climbing over, I'm like sorry, I'm getting to that wall first. But she got dizzy, she felt like throwing up, she waited. Then, she goes, good, I'm good to go. On the first hill going up in San Bernardino, exposed, super dry, super hot. My friend Giacomo is overheating. He's overheating. So he said, "Here,I brought my Camelback. Drink some water and you take my hat. I'm gonna walk up slowly with you to make sure you get up the hill." And then after that we got to that first water obstacle and started cooling down and we made it, so we were all looking out for each other. In both cases, and the one in Arizona was a blast. It was just fun. They ushered me through and made me feel comfortable. And then the second one when Giacomo was having a hard time I ushered him through. Then, Scott was showing us how it was done in each obstacle, he was just going for it and so we said, "Yeah, we're all going for it, we're all going for it." Nobody failed the shock. I know you're afraid but I've felt it before it feels like you're getting punched but it'll be alright.