TRAINING PLANS & WORKOUTS
Tough Mudder events are not for everyone. They're for anyone willing to dig deep, challenge themselves and embrace the nerves.
You stumbled across this page because guess what, you're that person and you're looking for a place to get started. Well, you're in the right place. It's never too late to start training. Whether it's daily exercise, small workouts or conquering obstacles, Tough Mudder Training believes in practical fitness, incremental progress and taking a small step forward every day. Keep scrolling for our training programmes, but first, hear all about our training philosophy.
FREE TRAINING PLANS
It doesn't matter where you are starting from.
Download the free Tough Mudder Training Guide and start your journey.
You'll thank us at the finish line (maybe).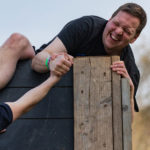 Training Guide
DOWNLOAD NOW
×
DOWNLOAD YOUR FREE GUIDE
×
Download Your Free Training Guides
GOT QUESTIONS ABOUT TOUGH MUDDER TRAINING?