"you don't have to be the stereotypical body or the stereotypical, you know, speed, like I've walked many course, and you know, still being able to achieve, you know, high mileage, whether it's, you know, doing multiple laps on a regular matter whether it's doing multiple laps in the toughest or at Worlds, and just being able to let people know that they're not alone." (17:33)
Listen Now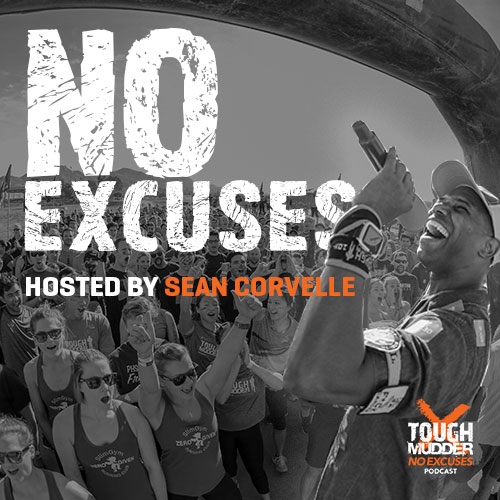 A LOOK INSIDE THE EPISODE:
TM: How did you start doing Tough Mudder?
J: I did my first Tough Mudder in 2014. I first heard about it in 2011 or 2012 when a coworker was telling me about the Tampa one and he put a flyer on my desk at work and he's like, "We need to do this." I was like, "You are out of your mind." It said 10 to 12 miles and I was like I can't do that, I had only ever done probably a 5k at that point. So, he kind of ingrained it in my mind and it just sat there for a couple of years and it just kept coming back in the back of my mind. I eventually ended up signing up for my first half marathon because the distance is what intimidated me. I thought I could do a 5k, I wanted to get some distance under my belt. So I started training for the Disney Princess half marathon in 2014a nd that was the first kind of long distance race that I did. My very first obstacle course race was 2013, it was a 5k Mud Titan. Once I realized the obstacles aren't that bad, I can do the distance, so I signed up and volunteered for my first event. It was the South Florida one in April of 2014 and then I learned about the whole Legionnaire thing, so I originally was going to do the Florida one because that's where I lived at the time and I talked to my sister and I was like I want to do another one. She's like, "Well, I can't come and do one with you." So her coworker ended up signing up and we did Texas in October because I just wanted to get that Legionnaire headband. I was like that's really cool, I want to have a couple of those under my belt. So I signed up for my first and second one before I ran my first one. That's just kind of what got me started. A coworker said, "You want to try it?" And I was like, "No thank you," and here I am so many events later.
M: Oddly enough, I started around the same time, the 2014 season. My first one was Nashville, which I think was in June of that year. I guess a little bit of the backstory is, I've been sort of an active guy most of my life, and I was a karate instructor for a number of years, but then I took a job that had me traveling all the time. I was home roughly 90 days a year, which made it rough to keep any sort of training schedule or teaching schedule. So I was looking for something to get active and I found out about OCR. I did a couple of small regional ones in the northeast, but then I heard about Tough Mudder, gave it a shot, came out, loved it, loved it from day one. And from that point forward, I had a little bit of control over my travel schedule at work. So I would plan my work trips around the Tough Mudder schedule for the remainder of my time with that job.
TM: What tips do you have for traveling to Tough Mudder events?
M: A lot of folks struggle and ask questions on Facebook forums and so on, about what should I bring? Should I bring a wetsuit? Should I bring this equipment or that supply, or whatnot. I think everybody's needs are going to be a little bit different and you're absolutely going to overpack for the first few when you start traveling for these and just be okay with that. Bring four wetsuits and two dry robes and a case of squirrel nut butter or whatever you're using for your feet. But then allow yourself to learn over time. Okay, well, I didn't use these things and maybe I can pair that down a little bit. But, eventually you kind of get to a spot where if you're just going out for a quote-on-quote normal Tough Mudder weekend of one to four events, then maybe you can get by with a carry-on. But, don't beat yourself up, don't worry if you think, should I bring this? Bring it. Then, you'll figure it out pretty quick. Did I need to use it? Then, you know for next time. Other than that, if you can, pick a favorite airline and favorite hotel brand and get your points because I only pay for about half of these because I use points for the others.
J: I can definitely say that Miles is so correct about the packing. It's like if you think you're gonna need it like, there have been so many times I've messaged friends and been like, will I need this? And then I don't bring it and it rains or I'm freezing and I should have brought my black mitts, I should have brought my windbreaker, I should have packed my dry robe. I'm literally trying to pack for Atlanta this weekend and I'm just like, I'm just gonna bring everything, I don't need everything, I'm probably going to bring it because the weather is always crazy. But when I lived in Florida, I had to fly everywhere. A seven hour drive was only going to get me to Atlanta and everything else was not in Atlanta, obviously. So I got a credit card for my preferred airline. I just like Southwest because two bags fly free, so I was racking up all of my day to day purchases on my credit card and then I would have the points for flights. So I got to have a lot of my flights on points and then I used some of the budget on hotel chains. On hotels.com or booking.com, after X amount of stays, you get free nights. The benefits that I actually have through my job is that we get certain points for doing certain fitness activities, and you can get recognition from them. So I always cash out any of my points that I can, if I don't do it for Amazon, if I need to buy something, I'll do it for a hotels.com gift card. I've got a $1,000 gift card right now from just work and fitness stuff that I'm going to be using on my hotels this year, just to save a little bit.
Another thing, if you can, when you can, room with someone. I'm not the kind of person who wants to camp, don't ask me to camp with you. At the campground, I'm not going to stay there, I'm going to be in a room. But share a hotel. If you can share rental cars, coordinate your travel, things like that are really helpful. My first few years I was doing a lot of it solo and so I've learned, humble yourself a little bit, you can share a hotel room with somebody for the weekend. It's not a big deal. It's that introvert side of me, and I want to be social on the course, and then I want my alone time in the room. So staying with friends is always really helpful because you get to split the rental car, split the hotel and we always do "family dinners" when we're out. There have been times where it's like, I want to try this, you want to try that. Maybe somebody buys an appetizer and then you guys split an entree or something. You can always make things a little bit cheaper just by doing things like that and that's just the kind of community we have.